Venture Capital fund Pitanga invested in Satellogic, an Argentinian startup aiming to revolutionize the Satellite industry with low-cost satellite production.
(Economia – Estadão) Para o matemático Emiliano Kargieman, de 40 anos, o céu não é o limite. Ele começou a programar computadores na infância para ganhar 'vidas' nos joguinhos de videogame, chegou à elite dos hackers na adolescência e, quando já tinha idade para montar uma empresa, passou a ganhar dinheiro vendendo softwares de segurança.
Em 2011, esse argentino criou um novo negócio e ficou conhecido, em seu país, como o "sonhador que quer democratizar o universo" com uma empresa de tecnologia espacial que desenvolve microssatélites. O projeto, ainda muito embrionário, acabou de atrair dinheiro de brasileiros para deslanchar.
No início do ano, a Satellogic, de Kargieman, passou a integrar o portfólio de investimentos do fundo Pitanga, criado em 2011 pelo biólogo Fernando Reinach em sociedade com o banqueiro Pedro Moreira Salles, do Itaú Unibanco, e dos donos da Natura, Luiz Seabra, Guilherme Leal e Pedro Passos.
Ex-diretor do braço de investimentos do grupo Votorantim, Reinach é o responsável por garimpar empresas inovadoras para aplicar os R$ 100 milhões levantados entre os sócios quatro anos atrás. Mais 1 mil passaram pelo crivo do Pitanga desde então e a Satellogic é, apenas, o segundo investimento do fundo. O executivo não revela o valor do aporte, mas diz que mais da metade do caixa ainda está disponível.
"Demora mesmo, porque estamos em busca de projetos realmente inovadores. Não queremos cópias", diz Reinach. Faz dois anos que a equipe do Pitanga estuda a Satellogic. A empresa surgiu de um projeto desenvolvido por Kargieman durante um curso na Singularity University, um centro de estudos nos Estados Unidos que é financiado por instituições como Google e a Nasa. "Lá eu me dei conta de que a indústria espacial usa engenharia de 50 anos atrás, é terrivelmente avessa ao risco e está dominada por poucas companhias muito grandes, que em geral são fornecedoras do Estado", disse o argentino, recentemente, ao jornal La Nación.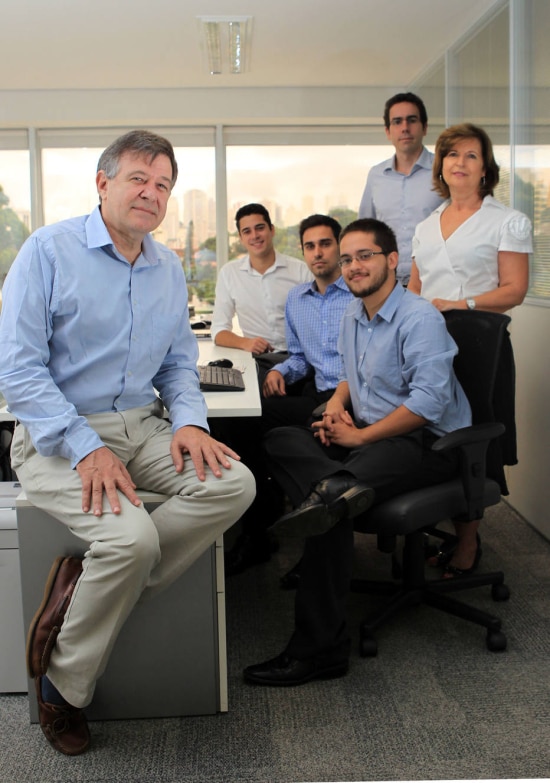 Com tamanho proporcional ao de uma Kombi, um satélite de observação convencional leva, em média, dez anos para ser construído e custa US$ 400 milhões. Na data de lançamento no espaço, a tecnologia da câmera fotográfica instalada no equipamento já está defasada.
A sacada de Emiliano foi fazer um satélite menor, do tamanho de um micro-ondas, que fica pronto em um ano ao custo de US$ 250 mil e com capacidade de produzir imagens com resolução equivalente ao dos grandes satélites – que passam em um mesmo ponto do Planeta a cada 15 dias – na melhor das hipóteses a cada três.
As imagens que eles produzem são compradas pelo Google, por exemplo. Os preços variam de US$ 5 a US$ 25 por km². Com uma constelação de mais de 300 satélites, a Satellogic quer oferecer fotos e um mesmo ponto da Terra a cada quatro minutos, com alta resolução, a US$ 0,05 por km². "Será possível ver como está o trânsito na Marginal do Tietê antes de sair de casa, monitorar uma área agrícola, o desmatamento da Amazônia ou o nível da Cantareira", afirma Reinach. "As possibilidades são inúmeras."
Não foram só os brasileiros do Pitanga que identificaram isso. Ao mesmo tempo, a Tencent, que está entre as três maiores empresas de internet da China, ao lado de Alibaba e Baidu, tornou-se sócia minoritária da Satellogic. Com valor de mercado de US$ 140 bilhões, a empresa é dona, por exemplo, do serviço de mensagens mais usado no país, com 400 milhões de usuários.
Corrida espacial. Embora seja um investimento relativamente pequeno em seu portfólio, a empresa argentina representa para a Tencent a possibilidade de participar do que já estão chamando lá fora de "segunda corrida espacial".
Segundo a consultoria NewSpace Global, o mercado de satélites cresceu mais de seis vezes desde 2010 e hoje já conta com 800 empresas. Até o fim do ano, o investimento privado no setor deve chegar a marca de US$ 10 bilhões.
Uma das companhias mais tradicionais do setor é a americana Planet Labs, que levantou US$ 95 milhões em investimentos no início do ano. A SpaceX, do bilionário Elon Musk, fundador do Paypal, acabou de receber US$ 1 bilhão do Google, que no ano passado, surpreendeu ao pagar US$ 500 milhões pela Skybox, que até então tinha lançado apenas um satélite.
A Satellogic já tem três equipamentos orbitando ao redor da Terra e tem outros cinco em construção. "Sabemos que é arriscado e que temos competidores de peso", diz Reinach. "Mas, se der certo, será um negócios de bilhões de dólares".